Adult Education
Adults Only Beginner's Hebrew Class (ABH)
Many parents have expressed the desire to read with their children Hebrew. This class will introduce adults to the mechanics and skills needed to decode the Hebrew alphabet. Vocabulary will be introduced, and confidence will boost! Class will start on October 17th and run on Wednesdays from 6:45-7:30pm.
Fee: $350
Download a registration form here.
If paying by credit card, please fill out the payment portion provided on the registration form or contact the office at 905-522-1351. If paying by cheque, make cheques payable to "Beth Jacob Synagogue" and deliver or mail it to the synagogue at the address below. 
All fees must be paid by January 31, 2019
Forms & cheques can be delivered or mailed to:
HEBREW SCHOOL
C/O Beth Jacob Synagogue
375 Aberdeen Avenue
Hamilton ON L8P 2R7
Forms and bursary request can also be emailed to Einav at einav@bethjacobsynagogue.ca.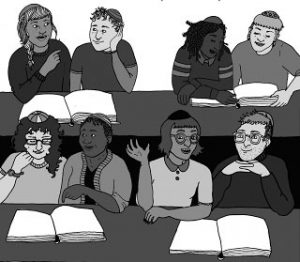 HAMILTON BEIT MIDRASH
August 26, 2018 – August 30, 2018, All Day
Click here for more information