Adult Education
Being a member of Beth Jacob means being a learning Jew. We are a people of the book and a community of words and ideas. Here are our latest adult educational offerings:
Your Sacred Voice – Learn to sing and lead our prayers with Rabbi Hillel, Sundays beginning Nov. 5, 9:30 – 10:30 a.m.
Talmud: Jewish Jurisprudence. Tractate Makkot – Explore the Jewish concept of justice with Rabbi Hillel, Mondays beginning Oct. 23, 6:15 – 7:30 p.m.,
The December Project – mindfulness in Jewish tradition and practice with Rabbi Yonah, Wednesdays beginning Oct. 25, 6:30 – 7:30 p.m.
A Taste of the Parsha with Rabbi Hillel – Shabbat, 9:00 – 9:15 a.m. Ongoing and no registration required.
Classes all take place in the Richter Chapel. Please confirm attendance via e-mail: r.hillel@bethjacobsynagogue.ca.
Upcoming Event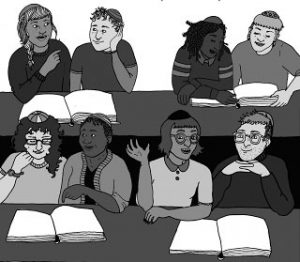 HAMILTON BEIT MIDRASH
August 26, 2018 – August 30, 2018, All Day
Click here for more information