Clergy & Staff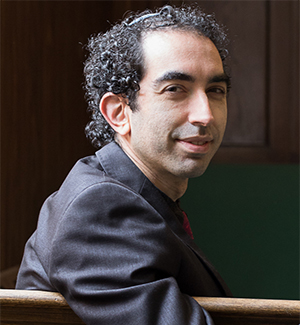 Rabbi Hillel Lavery-Yisraeli
Rabbi Hillel Lavery-Yisraeli was born and grew up in Richmond, BC. He knew he wanted to be a rabbi from the age of 4 or 5. He studied rabbinics in the United States and Jerusalem. Later, he taught Talmud and Jewish philosophy at the Conservative Yeshiva in Jerusalem and served as the rabbi of Conservative congregations in Netanya, Israel and Gothenburg, Sweden before becoming Beth Jacob's rabbi in the summer of 2015. Rabbi Lavery-Yisraeli is always available to his congregants, whether to give guidance and assistance, celebrate the good times with them and provide comfort when times get tough. In addition to all things Jewish, Rabbi Lavery-Yisraeli is an activist for human rights, women's rights, anti-racism and LGBTQ rights, a music lover and a musician, singing and playing a handful of string instruments. In Hamilton, he started a band called "The Mixed Blessings" together with a Benedictine monk. Rabbi Hillel is married to Yonah who is also a rabbi and an artist. He is the father of four children.
Email Rabbi Hillel at rabbi@bethjacobsynagogue.ca or call 905-522-1351 ext. 12.
---
Shira Kates, Synagogue Manager
Shira Kates joined the Beth Jacob family in June 2019 with a mission to build relationships and programming within our shul and through the wider community. She recently moved from Toronto, where she held positions supporting senior clergy and engagement efforts at multiple synagogues for many years.
Shira has a great love for Israel and was privileged to travel many times for work, school, and personal adventures. In 2017 she spent a year at the Conservative Yeshiva in Jerusalem, studying Talmud and networking with fantastic Jewish leaders from around the world.
She's looking forward to meeting every congregant and getting to know your individual wants, needs, interests, and even your complaints! "Let's work together to make Beth Jacob everything we want our synagogue to be."
Email Shira at shira@bethjacobsynagogue.ca or call 905-522-1351 ext. 10.
---
Maureen has been on the staff of Beth Jacob as administrative assistant since the summer of 2009. Prior to joining the staff in an official capacity, Maureen was involved in various volunteer functions. For the past 10 years she has worked on the Book of Remembrance and the seating committee for the High Holy Days. As administrative assistant, Maureen is responsible for keeping the synagogue membership and yahrzeit records up to date, sending out yahrzeit reminder notices to members, and assisting the executive director in whatever way is needed. You can reach her at maureen@bethjacobsynagogue.ca, or by calling 905 522-1351 ext. 13. She is generally in the office all day Monday and on Friday mornings; although you may find her around on other days as well, particularly in the weeks leading up to Rosh Hashanah.
---
Craig came to Beth Jacob with over 35 years experience in all aspects of accounting, as well as continuing to run his own income tax and bookkeeping business for the past 20+ years. He has made himself very familiar with every member's account and is available to discuss any concerns you may have. He can be reached at bookkeeper@bethjacobsynagogue.ca or by calling 905-522-1351 ext 14. He is in the office from Monday to Friday from 6:30 am until noon. You can leave him a message after those hours, and he will return your message the next business day.